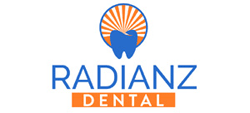 "I Enjoyed it here, very comfortable, Nice Service."

"My evaluation was perfect ! They are very attentive and my appointment was done quickly."

"I had 3 fillings and I didn't feel a thing. It was quick, easy and painless. First visit to this dentist and it was a great experience."

"I really like this office. They are very professional and freindly. They take you on time and they are open on saturdays every other week. I will tell all my family and friends about this practice . Good luck and much success !"

"Visit was very good, as well as helpful. I was guided in the right direction for future issues, I might have. Dr.Chawla was looking for my best interest and not trying to do it for the profit. Very happy with him going forward."

"It was very nice visit. Very Professional + Clean."

"I have been looking for a good deintist since my youngest daughter was born ! This is not easy to do ! I wanted someone who cares about my smile just as much as I do. Radianz Dental does just that ! Dr.Chawla's chair side manner was phenomenal !! Explaining every detail !! He made me feel comfortable and at home. His friendly staff makes it even better ! So happy I finally found a Great Doctor. "

"Great, I will be back "

"To be honest... I was very scared at first to make my appt. My last dental experience elsewhere left me scared from the pain to do my filling. I did not feel a thing here ! I felt comfortable. They were very nice, friendly ,the office is very clean ! I am very happy with my experience here !I will be telling all my family and freinds to come here. This place is worth it. Thank you to all here ! After almost 5 years of waiting to make my appt, I'm glad I made it here !"

"Very nice service, they acutally care about their patients and make you feel very comfortable."

"I would recommend comming here ! Very nice staff and got it all done in one visit !!Made me feel very comformtable, Thank You."